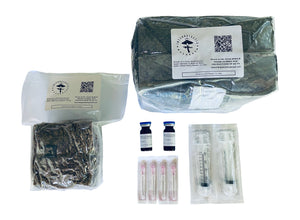 3 Product Bundle to get you From Spore to Harvest 

All inclusive bundle: one of 5lb plant based bulk mushroom substrate, one of 1.5lb rye berry bag and one liquid culture kit.
If you have a spore print, you can have a mushroom harvest by using nothing but this bundle. Everything you need is included.
1) Liquid Culture Kit 

Liquid culture kit turns your spores into a liquid culture. You then inoculate your grain bag with the liquid culture. And then inoculate the bulk substrate with the grain spawn. Mushrooms fruit from the bulk substrate. Mushroom growing cannot get any easier than that.
2) Rye Berry Bag
Prepared by hand in small batches; rye berry grain bag has minimum amount of burst berries and is hydrated to perfect moisture content for optimum mycelium growth.
Sterilized and vacuum sealed.
Injection port makes it easy to inject your spores or liquid culture. Works for any mushroom strain.
3) Bulk Substrate
100% Plant Based Bulk Substrate. Great alternative to manure based substrates and works much better.

Sterilized and Vacuum Sealed.

No Dung, No Manure, No Compost, No Animal Based Ingredient. Only plant based organic ingredients.